HIP CLIP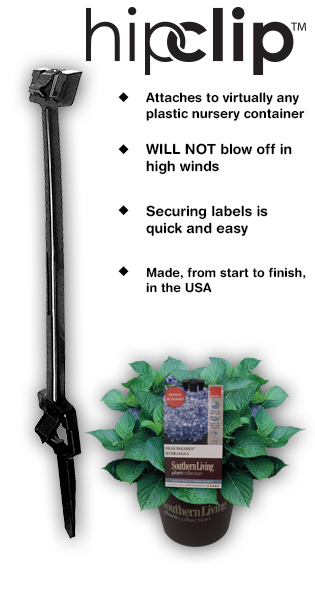 The HIPCLIP™ is the world's most advanced tag display stake! Developed in conjunction with several large US nurseries, the HIPCLIP™ addresses many performance limitations inherent with yesterday's elevator stake options.
The HIPCLIP™ quickly attaches to virtually any plastic nursery container AND securely fastening a label to the HIPCLIP™ is a snap! Labels will not blow off… when we say secure, we mean secure. A result of the unique attachment method allows label producers to ship printed labels in shorter time frames — and at reduced costs!
The HIPCLIP™ complements our GREEN product line with our exclusive label substrate, MilkMade™. Both are produced with a blend of virgin and recycled plastics.
The HIPCLIP™ is proudly manufactured in the USA.
Comes in black color as standard. Ask us about Special ordering in green
Want to find out more about this revolutionary new product?
Click here to contact us now for more info
Watch the hipclip™ during tropical storm Andrea below: