SUPPLIES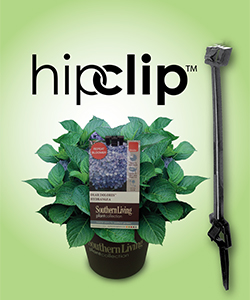 HipClip™
The HipClip™ is a revolutionary product that attaches to virtually any nursery container and will not blow off in the wind. It is made, from start to finish, in the USA.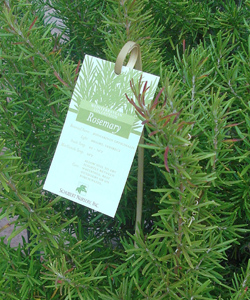 TikiStix
A hip new alternative to plastic tag stakes. Natural, biodegradable, and renewable bamboo stakes designed to complement your eco-packaging program, and the perfect companion to our earth-friendly products – Milkmade™, and VerdeTAG™.
Available in 4 sizes: 8", 12", 15", 24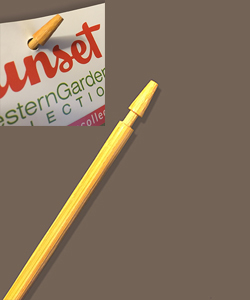 Bamboo Stix
Another superb product made from natural bamboo, with a more rounded silhouette than the Tikistix and an easy to use attachment system for hole-punched tags. Bamboo Stix add another complimentary product to our ever expanding array of eco-friendly choices.
Available in two standard sizes – 10½" and 15″
6″ and 24″ are available as a special order.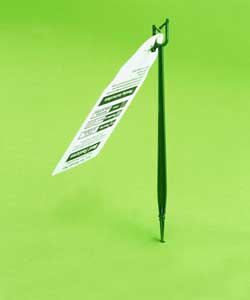 HIPStix
HIP Stix display custom picture tags either vertically or at a 45 degree angle. Each tag is easily and quickly clipped into position utilizing non-return prongs. The tag is securely held in place and will not spin and resists being blown off or easily removed. The tag pivots on a prong and the consumer instinctively lifts the tag in order to read the backside without pulling the stix out of the soil. Sizes include 11", 15" and 24" lengths.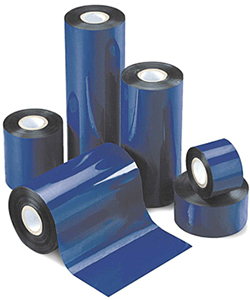 Thermal Ribbons
We offer many quality ribbon products for virtually any thermal transfer printer. Most ribbon orders can be shipped on the same day the order is placed. Contact us to see if we have ribbons available for your printer.